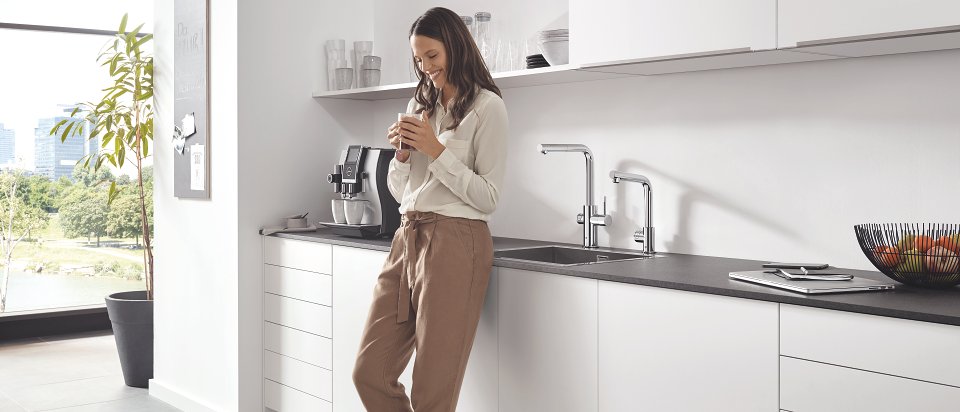 GROHE Red
Kettle hot water on demand
Fancy a cuppa? What about 40? With GROHE Red it's no problem. You can get kettle-hot water straight from the tap with no waiting around. No matter how many cups of tea your workforce get through in a day.
100°C water straight from the tap - save time, energy and space - combines a sleek tap with all standard functions with a titanium boiler and filter for great-tasting kettle-hot water
FIND A SHOWROOM NEAR YOU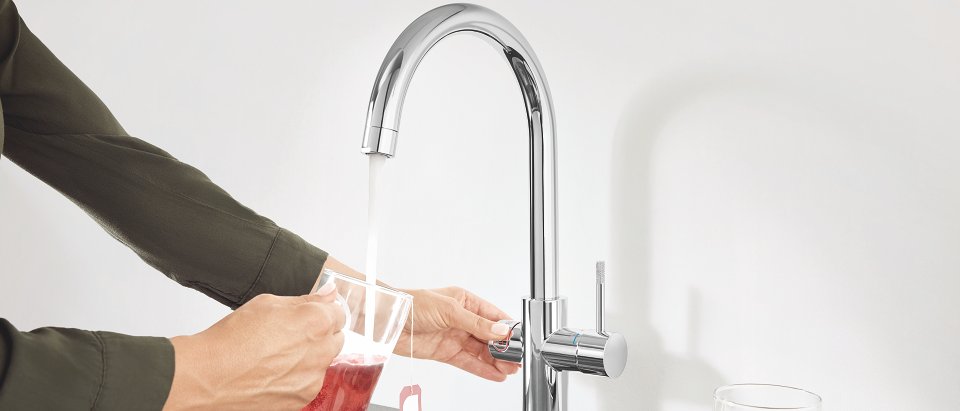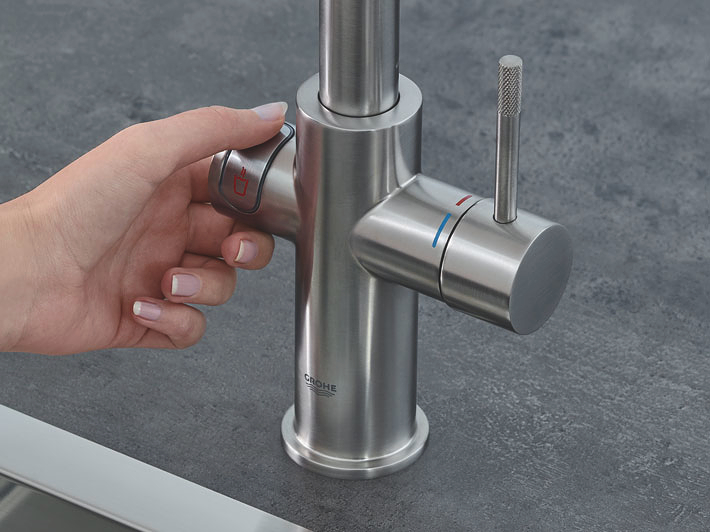 Press the ChildLock button for 1 second to unlock.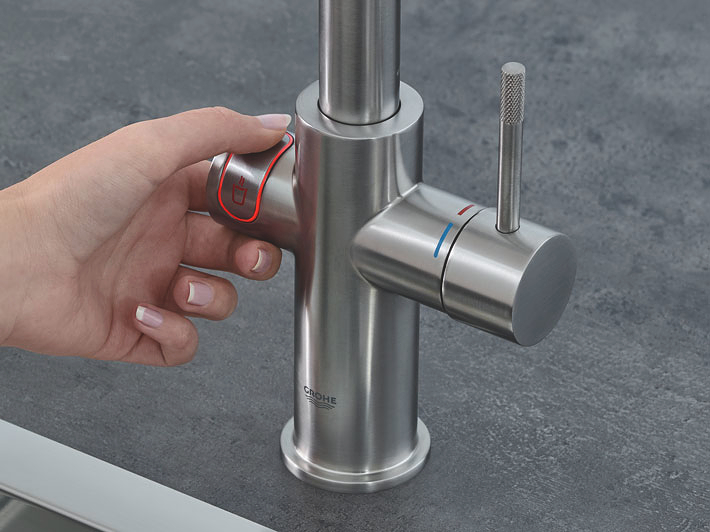 The LED will flash red, lighting up continuously when the ChildLock is deactivated.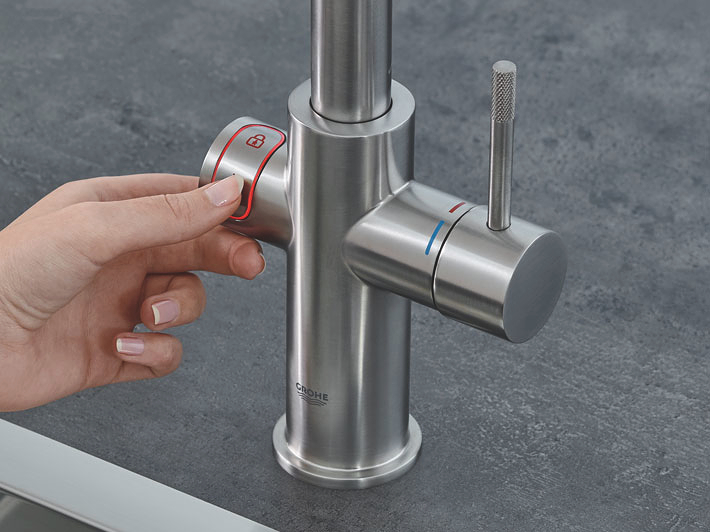 Press and hold the lower activation button for kettle-hot water. Remove your finger to stop.
MORE CONVENIENT AND SUSTAINABLE – GET GROHE RED FOR YOUR WORKPLACE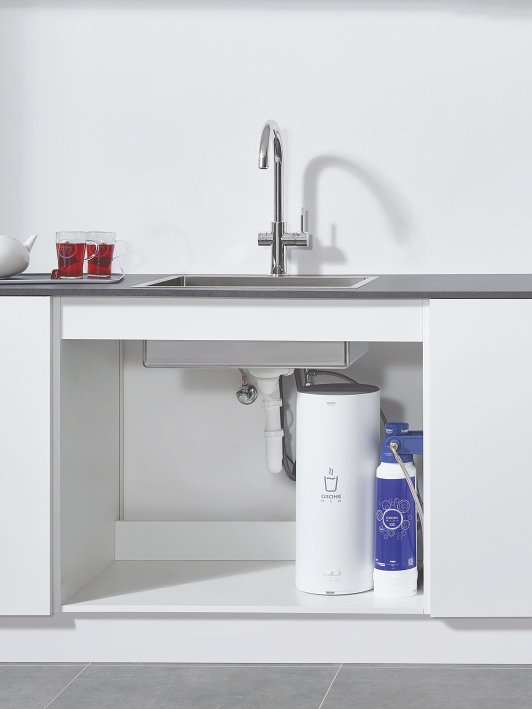 The convenient & stustainable watersystem for your office
TAP with separated inner water ways for unfiltered tap and boiling hot water, turnable by 150°.
PUSH BUTTON with safety lock and illuminated LED ring for 100°C boiling hot water on demand.
TITANIUM BOILER for storage of 5.5L at 100° C, energy efficiency rating A.
HIGH PERFORMANCE FILTER for long durability of boiler and protection of limescale.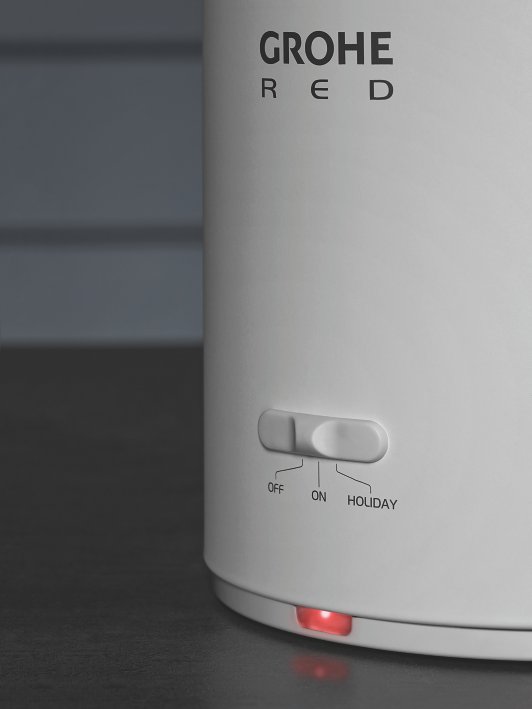 YOUR GROHE RED BOILER
The GROHE Red boiler delivers 100 °C kettle-hot water. GROHE Red can deliver up to 5.5L in an instant thanks to its titanium boiler - it is extremely resistant to corrosion and limescale build-up, maintaining perfect performance over a long lifetime, as well as ensuring the water is free of any metallic taste.
TITANIUM BOILER
excellent isolation - low standby costs
integrated filter for long durability and limescale protection
INTEGRATABLE MIXING VALVE
for immediate warm water and less wasted water
SUSTAINABLE DESIGN
Voltage supply: 230 V AC / 50 Hz
max. power consumption: 2200 W
Energy Efficiency Rating A
integrated holiday mode
BOILING WATER STORAGE HEATER
Voltage supply: 230 V AC / 50 Hz
max. power consumption: 2200 W
Energy Efficiency Rating A
Available storage heater volume at 100°C: L: approx. 5.5l
Heating time form 10 °C to 100 °C: L: approx. 30 min
SLEEK DESIGN, FLEXIBLE CHOICES
Thanks to GROHE's award-winning design team you can be sure the GROHE Red tap will look great in any kitchen. Choose from two shapes – an L-shaped or C-shaped spout – and two durable finishes. Happy with your workplace tap already? Then just add convenience to your current set-up with the addition of GROHE Red Mono. It sits alongside your existing tap and provides instant filtered, kettle-hot water.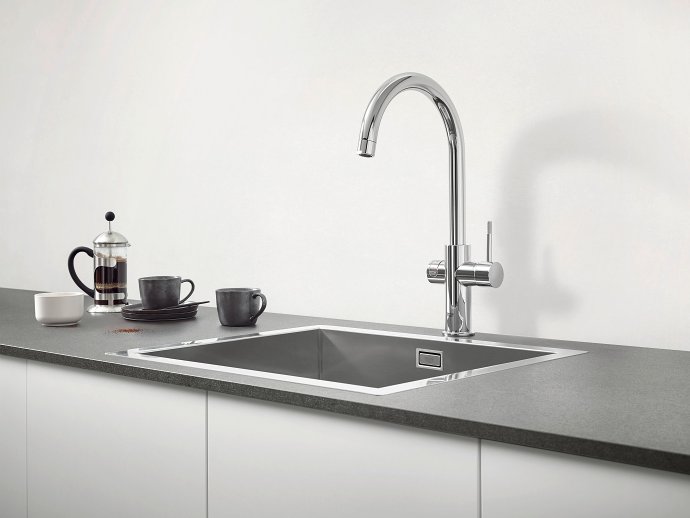 C-shaped spouts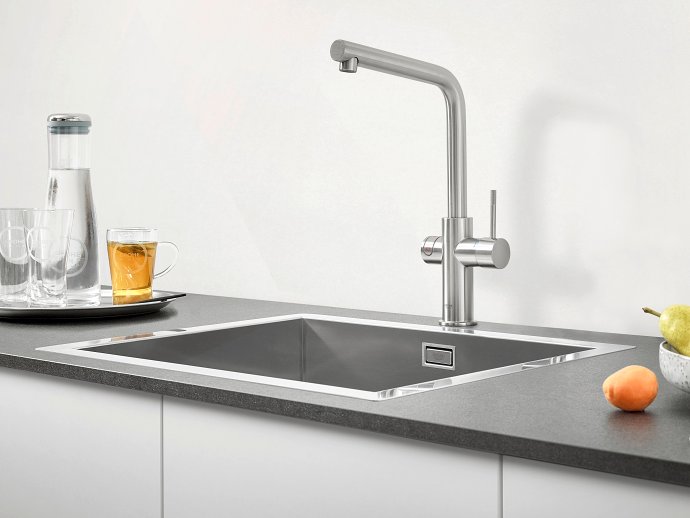 L-shaped spouts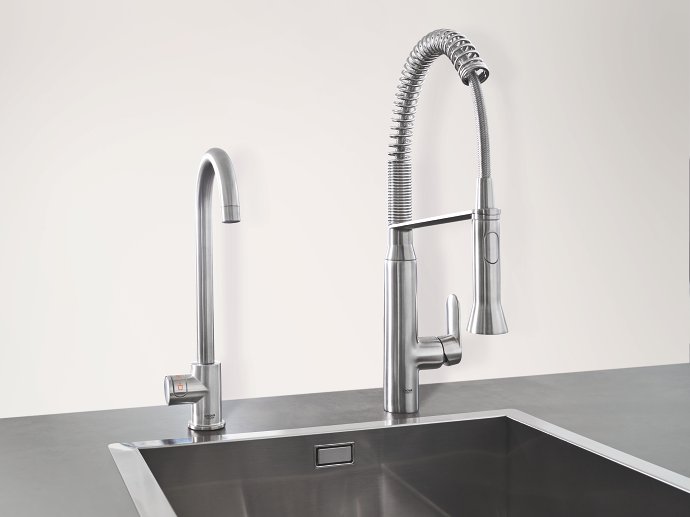 GROHE Red Mono
PRODUCT RANGE
Product range